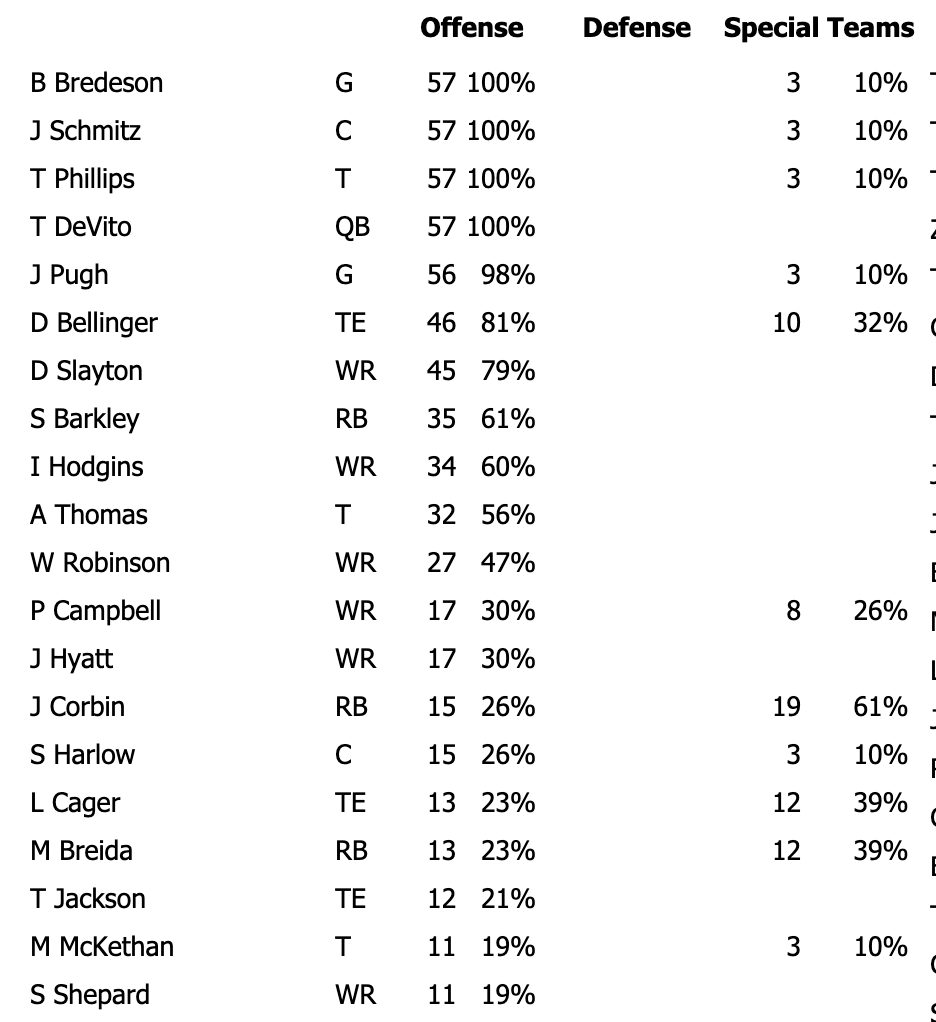 Dan Duggan @DDuggan21
Giants' offensive snap counts from yesterday:
• Saquon had a season-low 14 touches. Would have been wrong to overwork him in such a lopsided game, especially with his ankle continuing to be an issue.
• It's easy to understand the WR frustration. The passing offense basically consisted of 5-yard passes (DeVito had a 3.2 YPA). Shepard didn't play until the fourth quarter, scoring the garbage-time TD in the final minute. Hyatt left with a concussion after the deep interception on his lone target late in the third quarter.
• Practice squad elevation Tyree Jackson was the second TE in 12 personnel. Coaches clearly seen enough of Cager as a blocker.
• Another game where the starting OL didn't play every snap, although fortunately Thomas did return (and was wisely pulled for the final drive). Putting on
@ProFootballDoc
's hat: My guess is that he sprained his MCL because of the way his knee caved in and that he was able to return.
Everyone has said for years that the QB couldn't be evaluated because of the OL. I'd say the opposite is true right now. Tough to judge the OL when the defense is geared up to stop the run and then can pin their ears back to rush a QB with poor pocket presence when the game gets out of hand.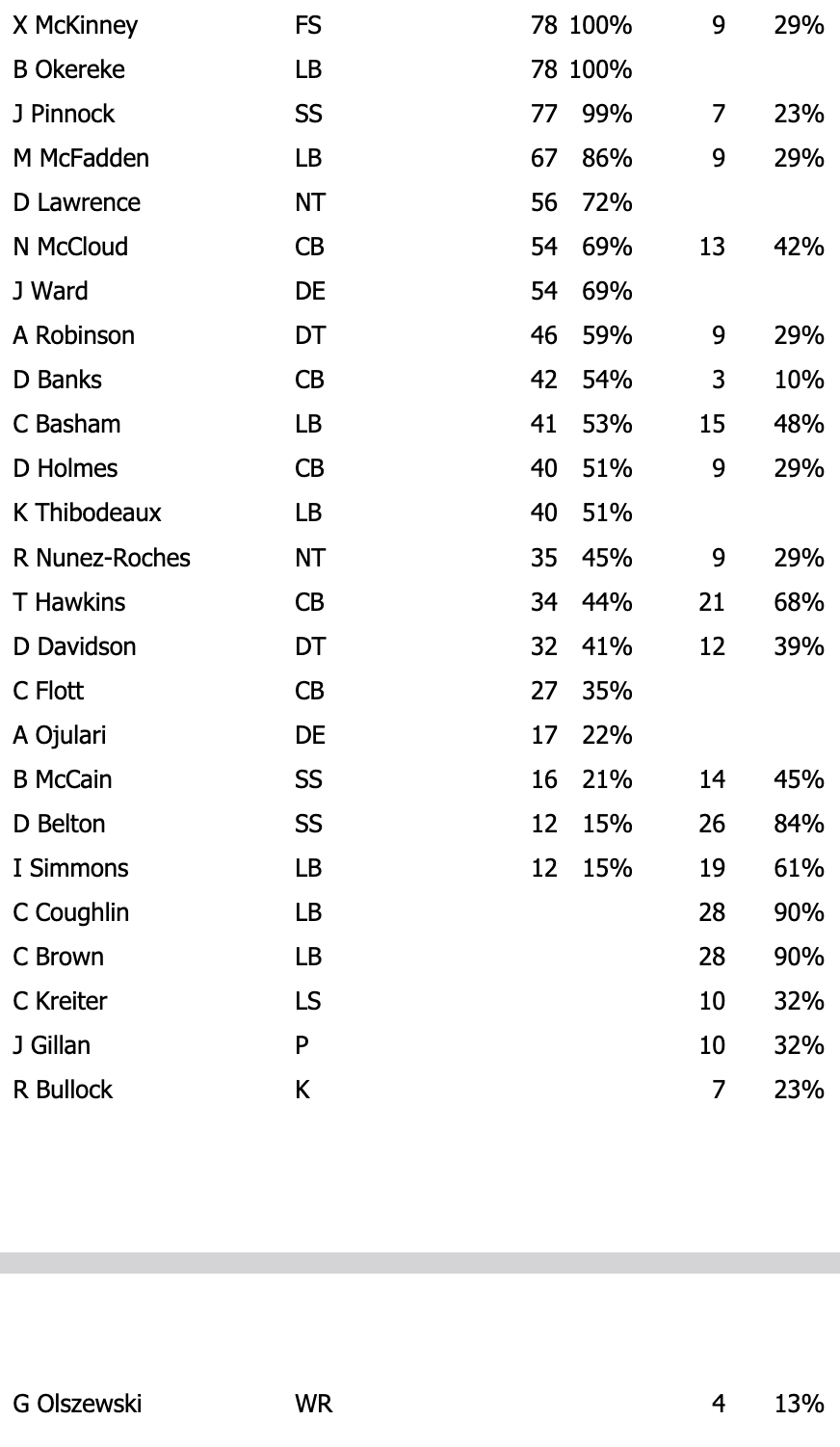 Dan Duggan @DDuggan21
Giants' defensive snap counts from yesterday:
• Really nothing to say about the DL. No impact plays from that group.
• Thibodeaux was playing just about every snap, as usual, before leaving with a concussion at halftime. Another quiet game from him, although he did draw a hold in the red zone (and then didn't get a flag when he appeared to be held two plays later). The Giants don't have a sack in four games against Dallas in the past two seasons.
Ojulari was used almost exclusively as a pass-rush specialist, but he did make a nice play to stop the Cowboys on fourth-and-goal from the 2 on their opening drive. Ward looked painfully slow on the 21-yard pitch earlier in that drive. Basham has been a non-factor.
• Okereke continues his ironman streak. McFadden had a rough game after a really strong stretch. You're seeing why Simmons was available for a seventh-round pick.
• The young corners got taken to school by Dallas' experienced WRs. The stats are appalling: Lamb 11-151-1, Cooks 9-173-1, Gallup 2-70-1. That's more yards than Cooks had in the first seven games of the season. Gallup had 78 yards in the previous four games combined.
Looks like Banks is hitting the rookie wall. And he left early with another injury (ankle). McCloud got the start in Adoree's place and showed why he's better suited for a super sub role.
Hawkins mixed in for McCloud in sub packages early in the game. Then when he took over for Banks he gave up a 41-yard TD to Gallup. He was then benched and Holmes, who had already been inserted at nickel, shifted outside. Dak immediately picked on Holmes, hitting Cooks for a 34-yard gain on his first snap.
Flott had what could have been a big interception (offense came away with 0 points), but otherwise had a rough day before leaving with a shoulder injury in the second quarter.
• McKinney also continued his ironman streak. McCain got rare D snaps, taking over as the nickel when Holmes kicked outside. McCain dropped an interception and got toasted by Lamb for a 12-yard TD.