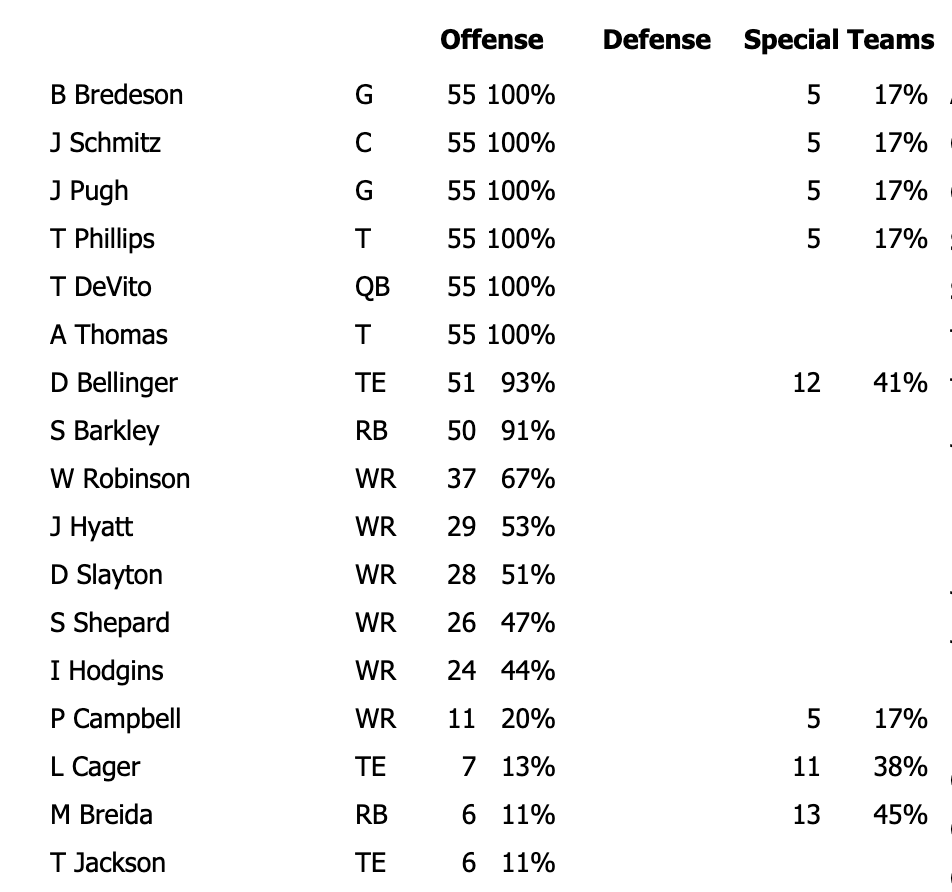 Dan Duggan @DDuggan21
Giants' offensive snap counts from yesterday:
• Saquon rarely leaves the field. When he does, it tends to be on third downs. Presumably that's to relieve him of some pass protection duties. But it was odd that he came off the field on the third-and-2 run that got stuffed in the second quarter.
• The Giants operated almost exclusively from 11 personnel. They went hurry-up often, which kept the same three WRs on the field for long stretches. Slayton, Robinson and Hyatt were the top three WRs to start the game. Shepard took over in the second half after Slayton left with an arm injury. Hodgins split time with Hyatt.
Slayton was having a big game (four catches, 82 yards, one TD) before leaving with an arm injury just before halftime. DeVito took one deep shot to Hyatt that wasn't there. He finished with one catch for seven yards.
• Giants played more 12 personnel in the first matchup, but Waller was in the lineup then. Bellinger has slid back into last season's role during Waller's absence. He's playing almost every snap and is making plays in the passing game. He has catches of 26, 26 and 23 yards in the past three games.
• Same five O-line started and finished the game. There were a few iffy moments from Andrew Thomas, who is clearly pushing through his knee injury. As Daboll made abundantly clear after the game, the nine sacks can't be pinned on the line.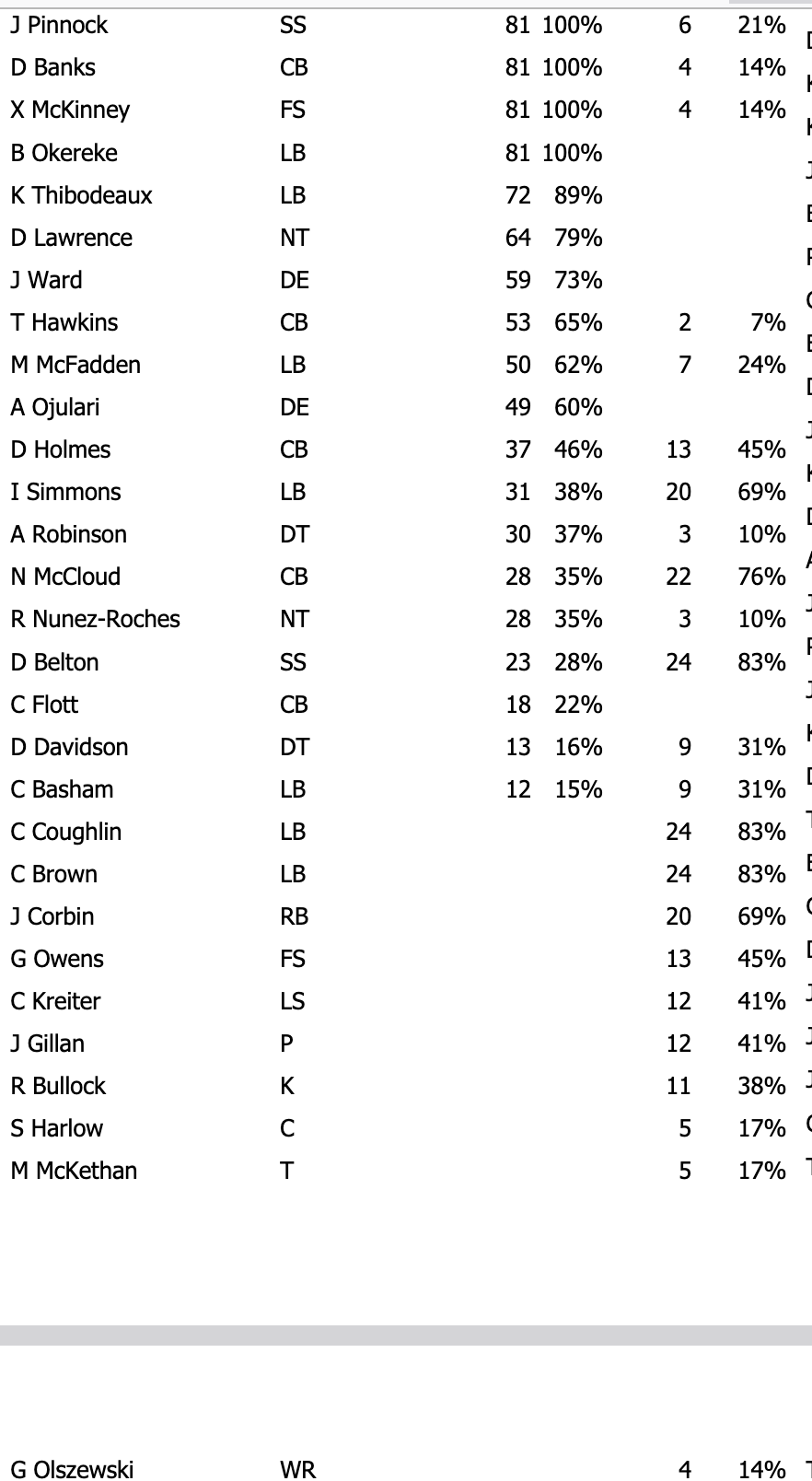 • D-line pecking order has been pretty consistent post-Williams trade. Lawrence obviously remains the top dog and was a monster yesterday. Robinson and Nunez-Roches split the other snaps evenly, with the Giants mostly in two-DL packages. Robinson had a few strong plays yesterday.
• Thibodeaux being so productive while playing so many snaps continues to be impressive. Ward mostly played OLB on early downs and he was replaced by Ojulari on passing downs. Quiet game from Ojulari, but at least his workload increased and he made it through without (apparent) injury.
Giants' third-down nickel package featured Lawrence as the lone true DL, but Ward also lined up as a DT. Then Thibodeaux and Ojulari were the edge rushers, with Okereke and Simmons at LB.
• Okereke has been everything the Giants could have hoped. Plays every snap and makes impactful plays. He's a master at punching the ball out. More of an even split between McFadden and Simmons than in recent games with Washington throwing so much. Both played well in their roles, highlighted by Simmons' game-sealing pick six.
• Hawkins got the start opposite Banks, but McCloud mixed in, mostly on early downs. McCloud came through with the interception early (also had the forced fumble on a kickoff return). Quiet game for Hawkins in a good way.
Banks didn't give up any big plays, but was beat by Dotson for the late TD and had a weak tackle attempt on Howell's TD run. He talked trash about McLaurin's quiet game (five catches, 43 yards), but the Giants played sides so he wasn't traveling with him.
Holmes played well in relief of Flott after the ejection. Got a pick on an under-thrown ball and tackled well, as usual.
• McKinney was all over the field — 12 tackles, 1 TFL, 1 fumble recovery. Pinnock is so good as a blitzer. Has to be sick about dropping that interception. Belton's playing time has increased as the Giants have been mixing in a big nickel package. McKinney was playing in the box a lot in that package yesterday.